"You turn yourself responsible for everything you do."

I ASK YOU TO STOP! This article, Jefferson S. Deacon, is the sole property of Mr. Draco, and cannot be mentioned, used or even edited without asking him first, except the collaboration articles. Are you capable of doing that?
"
...
"

—Jefferson Shaduck Deacon.
Jefferson Shaduck Deacon
Japanese Name
ジェファーソン・シャドゥック・ディーコン
Romanized Name
Jefāson Shadoukku Dīkon
English Name
Jefferson Shaduck Deacon
Birth Name
Yoshikage Kira
Namesake
Yoshikage Kira (Part 4 Character)
Jefferson (Roxette song)
John Deacon (English musician)
Stand
Killer Queen
Profile
Age
35
Birthday
.
Zodiac Sign
.
Gender
Male
Height
6'2" ft (189cm)
Weight
180lbs (81kg)
Blood Type
A+
Nationality
British
Race
Human
Hair Color
.
Eye Color
.
Favorite Color
Pink
Favorite Food
.
Occupation
Architect
Hobbies
Boxing
Media
Jefferson Shaduck Deacon (ジェファーソン・シャドゥック・ディーコン Jefāson Shadoukku Dīkon) is a core ally in Nero Ribelle.
Appearance
Edit
Personality
Edit
Relationships
Edit
Early Life
Edit
Abilities & Powers
Edit
Main article: Killer Queen (Damon)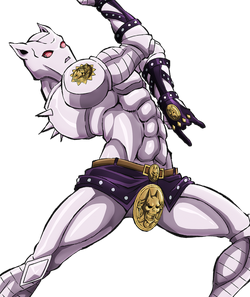 Major Battles
Edit