"I Am the Hope of the Universe!"

STOP RIGHT THERE!
This article,Kamatari Nakamura, is the sole property of The Z-Meister, and cannot be mentioned, used or even edited, without my permission.
Kamatari Nakamura
Japanese Name
仲村鎌足
Romanized Name
Nakamura Kamatari
English Name
Kamatari Nakamura
Stand
Body Electric
Profile
Age
17
Birthday
Unknown
Gender
Male
Height
6'1"
Weight
147 lbs.
Blood Type
B
Race
Japanese
Hair Color
Brown
Eye Color
Amber
Favorite Color
Plaid
Affiliation
Judas Priest (manager)
Dante Inferiro Orlandrius (employer)
Occupation
Stand fighter
Hobbies
Unsolving Rubix cubes
Media
Manga Debut
Chapter 1
Seiyuu
Unknown
SPOILER WARNING: Part Spoiler details may follow.
Kamatari Nakamura (仲村鎌足, Nakamura Kamatari) is a minor antagonist in Standpunk Underground. He is the first villain, featured in the arc Kamijou Seiji Begins the Battle of his Life.
A Stand fighter with Judas Priest as his manager, Nakamura infiltrates Morioh and attacks Seiji Kamijou along with his Stand, Body Electric, after his target discovers the body of Shinichi Hayato.
Appearance
Edit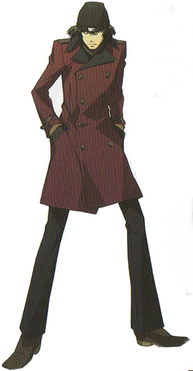 Personality
Edit
Abilities
Edit
Main article: Body Electric
Attacking Seiji
Edit
Relationships
Edit
References
Edit
Ad blocker interference detected!
Wikia is a free-to-use site that makes money from advertising. We have a modified experience for viewers using ad blockers

Wikia is not accessible if you've made further modifications. Remove the custom ad blocker rule(s) and the page will load as expected.